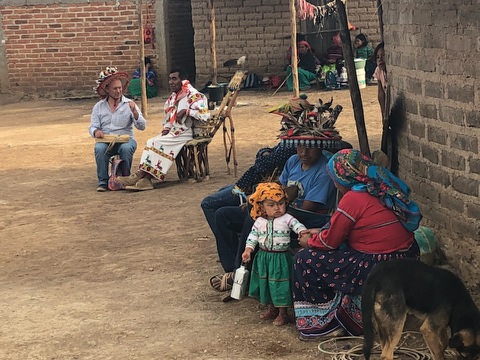 The Huicholes, one of the last indigenous peoples in Mexico live in a remote mountainous region of the Sierra Madre in northwestern Mexico. In the mountain village of La Laguna, the shaman Emilio and his village community are getting ready for a pilgrimage. They make a pilgrimage to their holy land, which they call Wirikuta, once every year. There they look for Peyote, which is a cactus plant with an intoxicating effect. The Huicholes have a special permit from the Mexican government that allows them to consume the cactus – which contains hallucinogenic Mescaline – as part of their rituals. They believe that the Peyote opens the door to their inner selves, their ancestors and to the universe.
Gustavo and Alicia are allowed to participate in the pilgrimage for the first time. They are not Huicholes but have a long interest in the Huichol culture. It is a great honor for them to join the journey. Their destination is the distant city of Real de Catorce, 500 kilometers away. Every Huichol family should have visited there at least once in their lifetime, because the myth of the start of all life began there. The Huichol Marciano with his two sons live in Real de Catorce. He and his family lives from the sale of traditional handicrafts. For Marciano it is important that his children do not forget their traditions.
TV premiere on Saturday, 19.1.19 at 7:30 PM, ARTE, Redaktion Wunderwelten
A production by avanti media fiction and ZDF/ARTE.
| | | |
| --- | --- | --- |
| Duration | 44 min. | |
| Director | Cordula Kablitz-Post | |
| DOP | Christopher Rowe | |
| Sound | Kourosh Kani | |
| Editor | Lars Billert | |
| Commissioning editor | Sarah Baltz | |
| Producer | Cordula Kablitz-Post | |