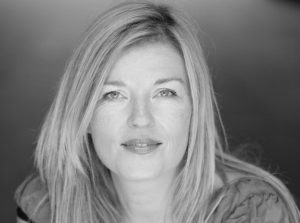 Cordula Kablitz-Post
Producer and Director of Documentaries and Feature Films
Cordula Kablitz-Post was born in Aachen, studied German, English and Theatre Arts and Sciences with emphasis on film and television in Munich and Berlin. Her first film experience was on Uwe Schrader's theatrical film "Sierra Leone" in 1986, on which she worked as a production assistant. Her own theatrical short films followed, along with jobs as script and continuity supervisor and as assistant director on Thomas Brasch's feature film "Welcome to Germany" in 1987. After receiving a Master of Arts degree at the University of Berlin, she worked at the Broadcast Station RIAS-TV as a freelance writer and director. In 1994, Cordula founded the production company Medusa Film where she directed and produced music videos. A year later she founded the film and TV production company avanti media in Berlin for the production of documentaries.
Cordula Kablitz-Post started documenting Christoph Schlingensief's work in the end of the 80's. In 1997 she and Christoph Schlingensief developed "Talk 2000", a talk-show satire with high profile guests. Numerous documentaries for the TV stations ARD, ZDF, Deutsche Welle, Spiegel-TV, Zeit-TV and Premiere followed. In 2000, Cordula Kablitz-Post and Christoph Schlingensief resumed their development and production collaboration on the "U 3000" cult series, which was broadcasted on MTV. Since 2001 she has been producing Arte's best-known documentary series "Into the Night with …", which received four Grimme awards in 2006.
In 2001, Cordula Kablitz-Post founded avanti media fiction, where she primarily produces feature films and high-quality television and theatrical documentaries. Her first production, "Sophiiie!", directed by Michael Hofmann, received the Bavarian Hypo-Prize for Best Director in 2002 and was awarded the Best Actress Award for Katharina Schüttler at the Munich Film Festival, while also competing for the Golden Leopard in Locarno and winning the Best Director prize at the Mediawave Festival in Hungary.
"High Maintenance", a short film produced with the Berlin International Film Festival in 2006 and directed by Philipp Van, starring Nicolette Krebitz and Wanja Mues, was screened at numerous international film festivals and received several awards, crowned by the Silver Medal at the American Student Academy Awards. In 2007 Cordula Kablitz-Post produced and directed the documentary "Christoph Schlingensief – The Pilots", a touching document of her long-time relationship with the director. The film celebrated its premiere at the International Hof Film Festival. "Love Without Borders", Cordula Kablitz-Post's 2011 ARTE series, also directed by her, was nominated for the Grimme Prize.
"Lou Andreas-Salomé – The Audacity to be free", completed in 2016, was Cordula Kablitz-Post's first full-length feature film as director. It premiered at the International Filmfest in Shanghai, was rewarded numerous international prizes and was one of the most successful arthouse films 2016 in Germany, Austria and Switzerland. Since then, it is successfully exploited, especially in France, Spain, Australia, Brazil and the USA.
The documentary "Die Toten Hosen – You Only Live Once" was directed and produced by Cordula Kablitz-Post in 2018 during one of the Toten Hosen's largest tours in Germany, Switzerland and Argentina. The concert segments were directed by Paul Dugdale. The film premiered during the 69th Berlin Film Festival in 2019.