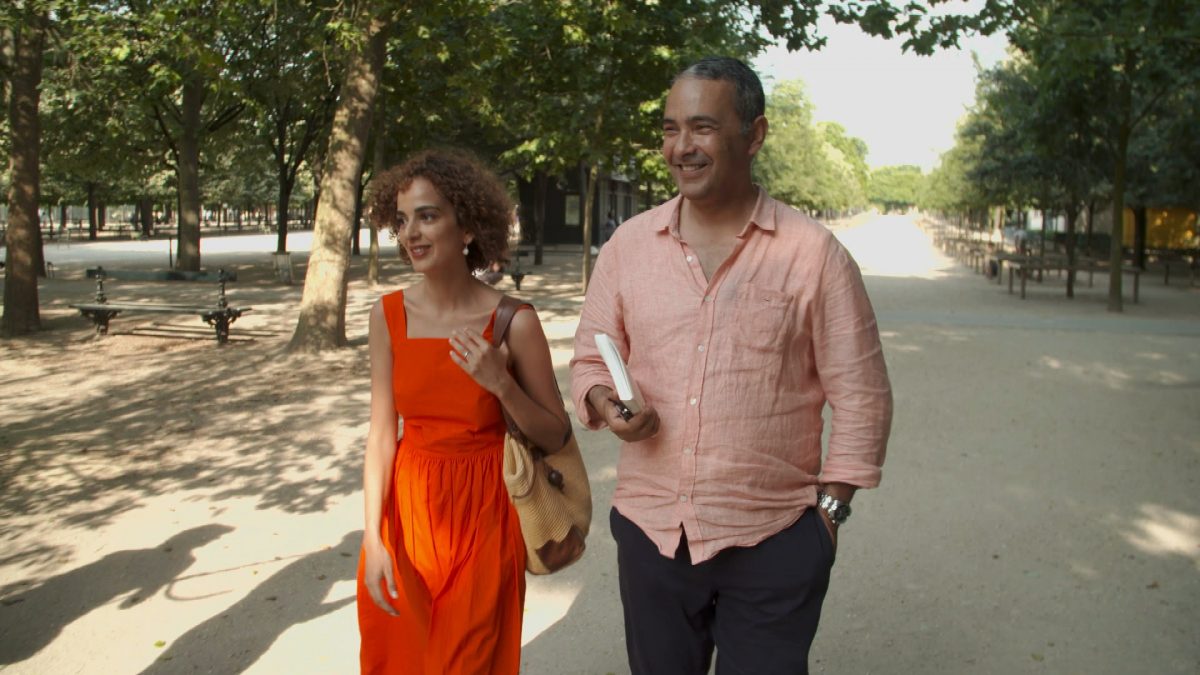 Leïla Slimani, born in Marroco – Since she won the Prix Goncourt with "Chanson Douce" she´s the new star of french literature. Kamel Daoud, is one of the most famous Algerean journalists, after the scandal about his critism islam, he dedicates completely to his authorical work. With "The Meursalt Investigation" he gives the killed Arabian from Albert Camus "The Outsider" a face and a voice.
Slimani and Daoud meet at the Jardin du Luxembourg. At an afternoon with good weather this park is a place-to-be for all readers. The non-french nannys, who are baby-sitting children of bourgeoise families, inspired Slimani to her book "Chanson Douce", in which the nanny kills the babys. A psychological thriller about modern families. Both authors feel the split between cultures. Both realize that they want to write about "the Arabian Judas".
At the café Palette both are enjoying the atmophere of the artists from Saint Germain de Prés, down here Camus, Satre and de Beauvoir founded the myth of the intellectual Paris. How are they handling the expactions. They arrange a correspondence about the bad algerean-morrocan relationship.
In the institute du Monde Arabe they are meeting the algerean actor and filmmaker Lyes Salem. Salem promotes his film "L´Oranais", that tells the post-colonial history of Algeria.
Victor Hugo is author of "Les Misérables" a artistic example for Leila Slimani und Kamel Dauod, who are understanding their writing as a political act. In "Maison Victor Hugo" they are exploring paintings that the master painted and think if a high desk would be possible for their work too. They are talking about pro´s and con´s of working with a computer and Daoud tells about his childhood.
Above the Pont Neuf they are enjoying the sunset in Paris. They are enjoying dinner at a roof-garden with a fantastic view at the Notre-Dame and talking about their personal experience that made them authors.
We are experiencing two charming authors, that are talking about life, art, politic and cultural identity. Both are handling big hate from fantaic islamists. But they keep going.
| | |
| --- | --- |
| Lenght: | 52 Min. |
| A film by | Andreas Nickl D 2017 |
| Production | Cordula Kablitz-Post, avanti media fiction |
| Editor | Martin Pieper |
| First broadcast on ARTE | 15.10.17, 10.45 pm |